Training Medicine and Training Physiology
Training Medicine & Training Physiology (Trainingsgeneeskunde en Trainingsfysiologie, TGTF) improves the physical and mental readiness of military personnel and units for ground-based operations. It does so by providing sports medicine care, advice, education, and practice-based scientific research. TGTF comprises of 3 teams: the Sports Medicine Advice Centre, the Centre of Excellence, and the TGTF Field Labs.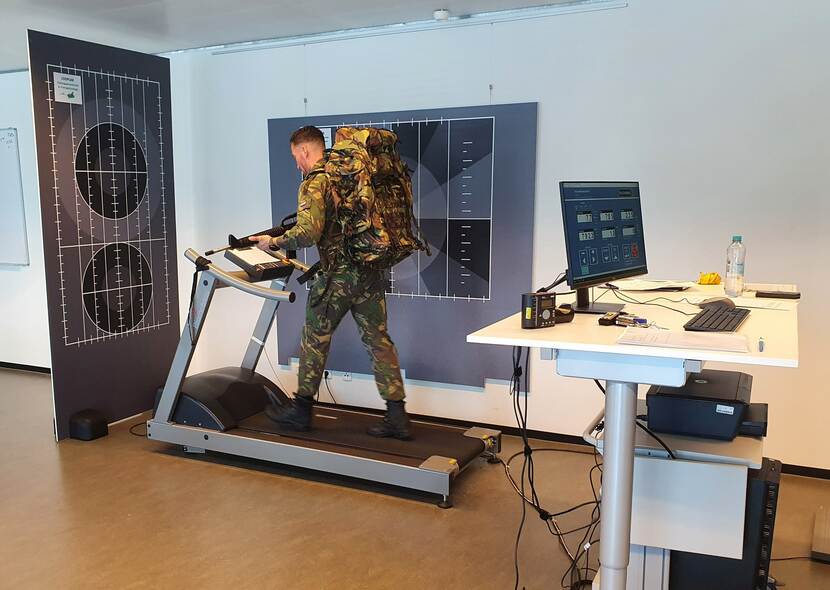 Sports Medicine Advice Centre
The Sports Medicine Advice Centre provides sports medicine care to military personnel. This care is provided by a team of sports physicians, physical/manual therapists, an assistant and a training expert. The Sports Medicine Advice Centre also provides advice to individuals on their readiness and performs studies on how exercise-related injuries occur. This knowledge is translated into education to military personnel on how to prevent these injuries.
Centre of Excellence
The Centre of Excellence conducts practice-based research, provides education, and advises policy makers and military and healthcare personnel on the following areas of expertise:
Heat, Cold, and Altitude. The Centre of Excellence tests and develops tools for military operations in extreme environmental conditions. It also shares the expertise and skills to prevent, identify, and treat injuries in these conditions.
Military Performance Psychology. The Centre of Excellence develops approaches that help instructors and leaders to optimise the performance of their military personnel under harsh and unpredictable conditions.
Exercise Physiology. The Centre of Excellence provides research and advice on physical fitness (training) of military personnel related to their workload. Tests and systems to measure physical fitness of military personnel throughout their military career are developed.
Military Fatigue and Alertness Management. It is not always possible to prevent sleep deprivation and fatigue in military operations, so the Centre of Excellence studies the consequences of these phenomena, how to recognise them, and how to limit their risks.
TGTF Field Labs
Main goal of our Field Labs team is to improve the Royal Netherlands Army education and training environment. It studies the load that military activities impose on recruits and soldiers related to their physical abilities; and tries to balance them by providing guidance and advice. This way, TGTF tries to prevent personnel retention and to ensure that operational units remain fit for action.
Contact
You can send your questions to: tgtf@mindef.nl.
Address
Kromhout Barracks
Herculeslaan 1
3584 AB Utrecht