A look at the Defence news 6 - 13 February
In what can be seen as a historical step, the further integration of Dutch and German air defence units took shape this week. A binational unit is now preparing for its participation in the NATO Response Force in 2023. Last week, agreements were reached on how operations will be conducted.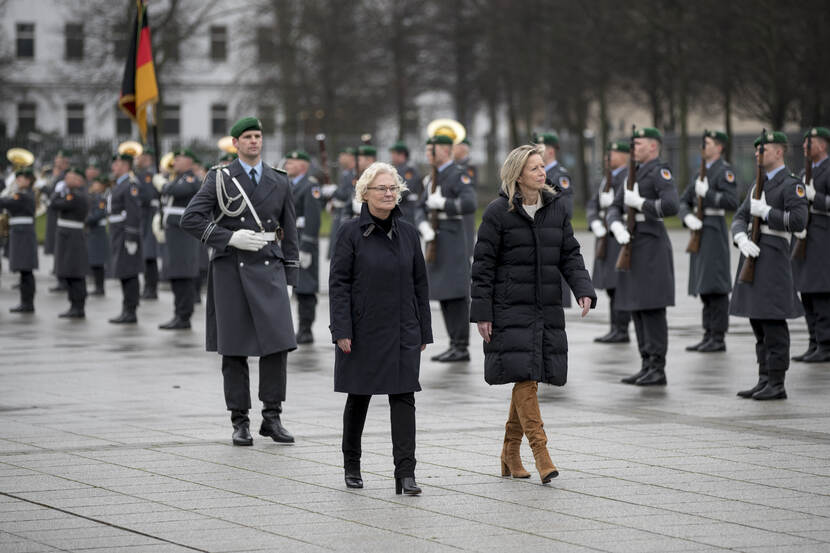 Ukraine and cooperation key focus during meeting between Ollongren and German counterpart
Last week, the Netherlands Minister of Defence, Kajsa Ollongren met with her German counterpart Christine Lambrecht. While the worrying developments in Ukraine and Mali were the main topics on the agenda, the two ministers also discussed the intensive military cooperation between the Netherlands and Germany during missions and exercises, in the procurement of new equipment and in many other projects. The Netherlands MoD does not cooperate as closely with any other country as it does with Germany. All the more reason for a face to face meeting in Berlin.
NATO ceremony commemorates 5-year presence in Lithuania
On 9 February, it was exactly 5 years since Germany, Norway and the Netherlands provided their first combat units to the multinational battle group for the NATO Enhanced Forward Presence in Lithuania. Since then, the three countries have continuously provided combat units to this multinational initiative. A ceremony commemorating this milestone was held at the Rukla Barracks where the battle group is stationed.
Concerns about developments in Mali
The deteriorating situation in Mali is affecting the various missions in the West African country. The Netherlands Defence organisation is involved in a number of these missions. Especially the French-led Takuba Task Force is facing opposition, as stated by the Dutch government in a recent letter to Parliament.  
HNLMS Schiedam hunting for explosives in North and Baltic Seas
Earlier this week, HNLMS Schiedam joined the Standing NATO Mine Countermeasures Group 1 (SNMCMG1). This NATO flotilla is part of the NATO Response Force and is specialised in keeping the sea, coastal waters and harbour entrances free of mines.