Ollongren speaks to Dutch military personnel in Lithuania
"I have a deep respect for you", said Netherlands Minister of Defence Kajsa Ollongren today as she spoke via video link to Dutch servicemen and woman currently in Lithuania, which borders Russia.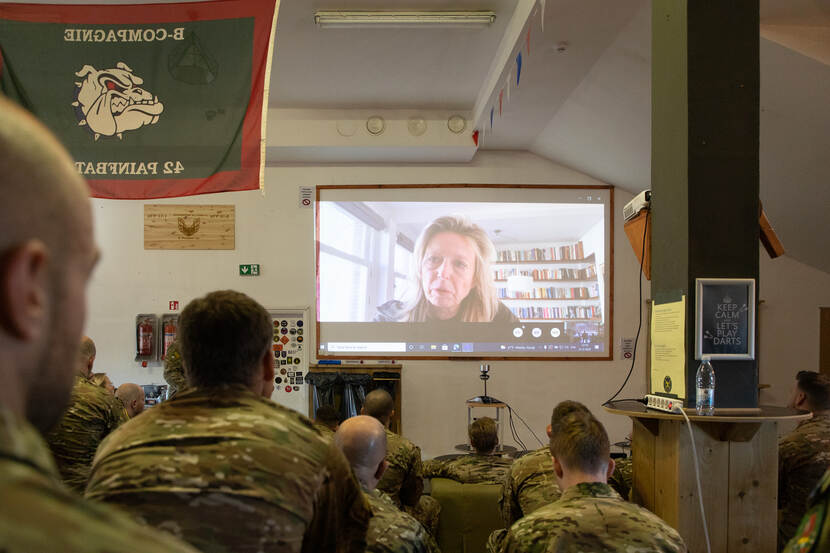 She spoke with them about the uncertainty of the incredibly threatening situation that has arisen since Russia's invasion of Ukraine.

The added burden on friends and family was also discussed, now that the service personnel are far away from home in such turbulent times.
Fighting for their country
"We are witness to the devastating and deadly consequences of the cowardly attack on Ukraine. Thousands of civilians forced to flee or take cover for bombardments. It is hard to imagine the fear this must cause. At the same time, we see brave Ukrainians fighting for their country, for their democracy, for their freedom and for their loved ones."
According to Ollongren, Russia has gone down a blind alley by forcibly denying freedom and independence to Ukraine. "And all of this under the guise of a threat that only exists in the mind of President Putin. This has resulted in a sovereign European country, a fellow democratic country, now being confronted with brutal aggression. It is for this reason that Ukraine deserves our utmost solidarity!"
Ollongren said not to know what Putin's plans are, "but that this attack means we have to be ready for anything. Belarus is already a puppet state. Georgia already felt Putin's expansionism in 2008 and it is therefore completely understandable that NATO's eastern flank is concerned. This is exactly why we are in Lithuania!"
War returns to Europe
The minister reiterated that war had returned to Europe. "This is a painful observation. And it is up to Europe, NATO and all of our allies to collectively bring this aggression to a halt."
The minister explained that this has already begun by lending support to Ukraine and by imposing tough sanctions. "Just last night, EU president Von de Leyen announced the drastic measure of banning Russian banks from the SWIFT system. In a military sense, NATO, the strongest alliance in history, also forms a united front. An alliance made up out of 30 democracies. Each of which is different, yet they all show solidarity when the going gets tough. An attack against one is an attack against all."
Power of the Alliance
"Our collective defence is being expanded at a rapid pace", Ollongren stated. "Thousands of servicemen and women are on their way right now, including to the Baltic states. That is why the NATO Response Force was activated this past Friday, for the first time. Contributing to deterrence, reassuring the local population and increasing the power of the alliance ; that is what you are doing in Lithuania on a daily basis, together with German, Norwegian and Lithuanian colleagues, among others."