Army prepares spare equipment for NATO deployment
Royal Netherlands Army (RNLA) personnel are currently gathering all kinds of reserve military equipment. They are doing so for the Dutch contributions to the NATO Response Force (NRF). This equipment is needed to keep units operational and deployable during operations.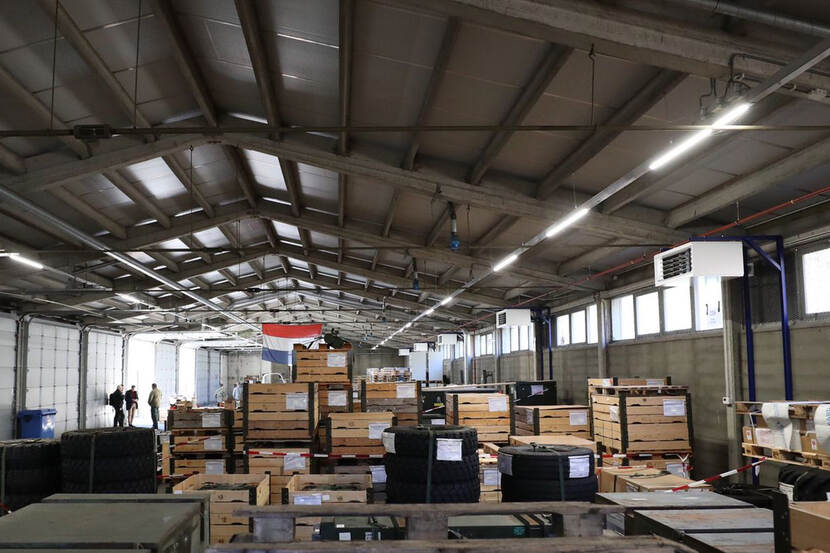 Due to the developments in Ukraine, the NATO Response Force was last week brought to a high degree of readiness. "As a result of this request, we are already preparing the necessary logistics support for possible deployment", explained the Head of the Land Groupage Point.
Dozens of containers
Brigadier General Ronald Rietbergen of the RNLA said that the activities involve between 50 to 70 containers containing all sorts of spare parts for various weapon systems. "We have at least 8,600 types of items here. From metal wires and vehicle tyres, to parts for CV90 infantry vehicles and Scania trucks: everything is collected, packaged, picked and recorded here, making it ready for transport and possible operational use. If NATO calls on the RNLA contribution, everything will be ready here from a logistics point of view. This is how we support our army units."
Full speed
According to the general, it is a major process that "continues day and night". "Last week, we packaged the military goods to be sent to Ukraine. I have noticed a great sense of commitment from our people; everyone is working at full speed to get the job done."
NATO Response Force
The NATO Response Force (NRF) is NATO's rapid response force and consists of a very rapidly deployable element, the Very High Readiness Task Force (VJTF, also known as the spearhead force) and elements that would deploy after the VTJF, such as the Initial Follow-On Forces Group (IFFG). The IFFG consists of units that can reinforce the VJTF. For the ground component, the Netherlands Ministry of Defence has offered RNLA units, including units from 13 Light Brigade, to NATO.
The Netherlands will deploy ships, army units and aircraft for the NRF if and when requested to do so by NATO. This will only take place if NATO's North Atlantic Council (NAC) decides to make such a request, with the consent of member states (therefore including the Netherlands). This has not yet happened. Readiness has been increased, however, and response times shortened.