EU defence ministers ramp up military support to Ukraine
The European Union is to ramp up military support to Ukraine. This was decided today by the EU ministers of defence. This is in response to an urgent request by Ukraine for further support.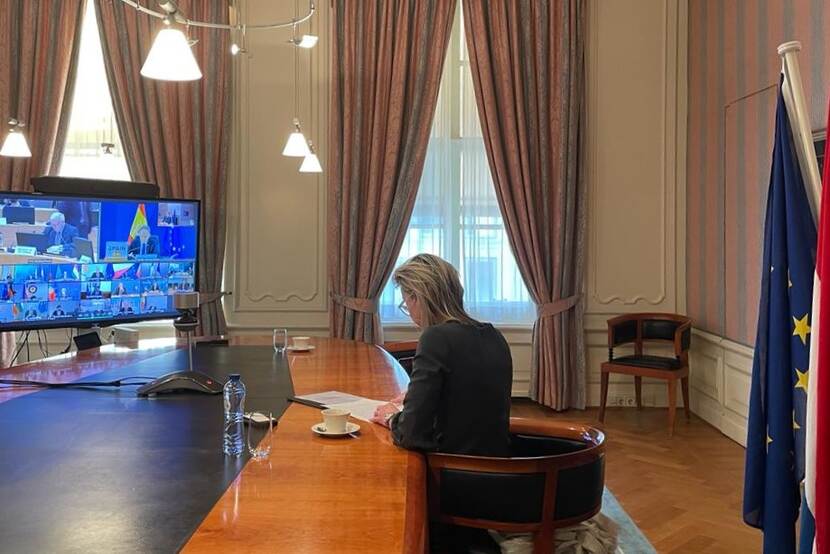 A total sum of € 500 million will be made available, of which € 450 million will be allocated for weapons. These may include rifles of various calibers, howitsers, mortars, anti-tank weapons, ammunition and air defence weapons. The remaining € 50 million is allocated to other types of support, such as equipment, medical goods and fuel.
This materiel will be delivered by the ministries of defence of NATO member states; they will be reimbursed from the European Peace Facility. Yesterday, the EU ministers of foreign affairs had already approved a decision regarding the use of this funding instrument.
The European External Action Service (EEAS) will oversee the provision of support. It will ensure smooth coordination and synchronisation regarding the provision of bilateral support from EU member states to Ukraine in order to align supply and demand.
Unprecedented scale
Minister Kajsa Ollongren: 'This is the first time that the EU is financing and providing such support to a non-EU country and, straight away, it is on an unprecedented scale. It was triggered by exceptional circumstances and, by taking this action, we are reacting to an urgent request from Ukraine. It is also a new and important step in the geopolitical role of the European Union."
The current situation emphasises the importance and the urgency of ratifying the EU Strategic Compass in March. This document sets out concrete ambitions and objectives for a stronger EU defence policy. The Netherlands also emphasised this point during the meeting between EU defence ministers.
The Netherlands strongly condemns the brutal acts of war currently being perpetrated by Russia. Ukraine needs maximum support and the Netherlands is therefore lending support to the Ukrainian army by sending military equipment. It is important that Ukraine is able to defend itself against this illegal Russian invasion.