Rutte visits Dutch military personnel in Lithuania
Dutch military personnel in Lithuania received a visit from Prime Minister Mark Rutte today. He not only visited the Baltic state, but also Poland in order to talk to members of both governments about the situation in Ukraine. Rutte thanked the Dutch servicemen and women for their "important contribution in these exceptional times."
The Prime Minister visited the enhanced Forward Presence (eFP) troops based in the area. The Dutch soldiers gave several demonstrations of operations in built-up areas on the training ground in Pabrade.
Afterwards, Rutte engaged in conversation with the soldiers. He showed interest in, among other things, their equipment and the circumstances in which they work. The Prime Minister remarked on the high level of training among Dutch military personnel and said he was "very proud" of their work. He went on to say that the soldiers' work has now become "very serious".
The Netherlands has taken part in the eFP in Lithuania since 2017. The Dutch contribution concerns around 270 military personnel. The mandate will remain in force until at least the end of 2024.
The Netherlands will deploy a maximum of 350 military personnel from the middle of this year. The focus is on military exercises in an international context in order to stand strong together against all possible threats.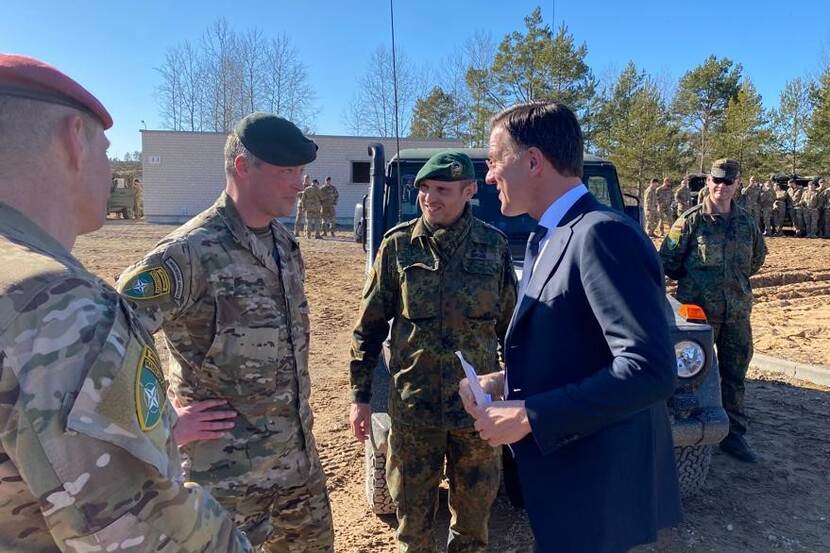 Prime Minister and Defence minister attend summit
With the visits to Lithuania and Poland, the Prime Minister is preparing for the NATO and EU summits that are planned for later this week. Minister of Defence Kajsa Ollongren will accompany him to the NATO summit.
Lithuania and Poland play an important role when it comes to the war in Ukraine. They are both NATO and EU members on the eastern flank of NATO territory, directly bordering Russia (Kaliningrad) and the Republic of Belarus. Poland also shares a border with Ukraine. Approximately two million refugees have arrived in Poland since the start of the war.