A look at the Defence news 28 March - 3 April
The Netherlands has now sent more than 50 million euros worth of military goods to Ukraine. This also included weapons. Minister Kasja Ollongren informed the House of Representatives of this last week. She did so after President Zelensky of Ukraine addressed the House of Representatives and asked for more help. "We are doing what we can to enable Ukraine to defend itself," Ollongren said on behalf of the government.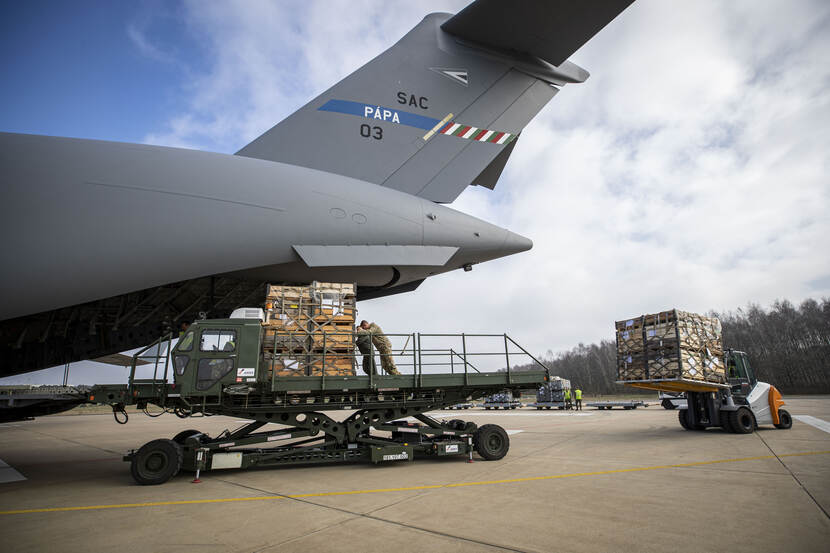 Nearly 3,100 people brought to the Netherlands from Afghanistan since the fall of Kabul
As of last week, a total of nearly 3,100 people have been brought from Afghanistan to the Netherlands since the Taliban took Kabul in August of last year. Of these, 1,860 people arrived between 15 and 26 August. Over 1,200 people followed between early September and 21 March. At the moment, there are still 1,500 people waiting to come to the Netherlands. Fewer than 1,200 of these people are still in Afghanistan, while 330 are in transit in a third country. The process of determining who is eligible for transfer to the Netherlands is almost complete.
US tanks and other materiel arrive in Vlissingen
Tanks disembarked from US Navy vessel Cape Washington last week in the port of Vlissingen. The tanks are part of a US mechanised brigade. The brigade is on its way to Eastern Europe for the large-scale exercise Defender 22. It also brought wheeled vehicles, containers, equipment and maintenance equipment. Until mid-April, all this materiel will be transported from Zeeland to its destination by road and by rail. For western NATO countries outside the EU, the Netherlands is the gateway to Europe. Host Nation Support will end once all the materiel has been transported across the border at Venlo.
War in Ukraine underlines importance of Frisian Flag
For the first time in three years, international flying exercise Frisian Flag started again last Monday. The event was cancelled in 2020 and 2021 due to COVID-19. Until 8 April, dozens of national and international aircraft will participate in exercises from Leeuwarden Air Base. Over the next two weeks, aircraft from Canada, Germany, the United Kingdom, France, Italy, the Netherlands and the United States will be operating in the airspace above sea. This is done to ensure readiness for any assignment, at any time. The war in Ukraine once more underlines the importance of this. Fighter pilots are currently patrolling the eastern border of NATO territory on a daily basis.