Patriot unit ready to fire in Slovakia
The Patriot air defence system in central Slovakia is operational. The unit manning the system is therefore ready to protect critical systems and facilities in the country against possible threats from the air.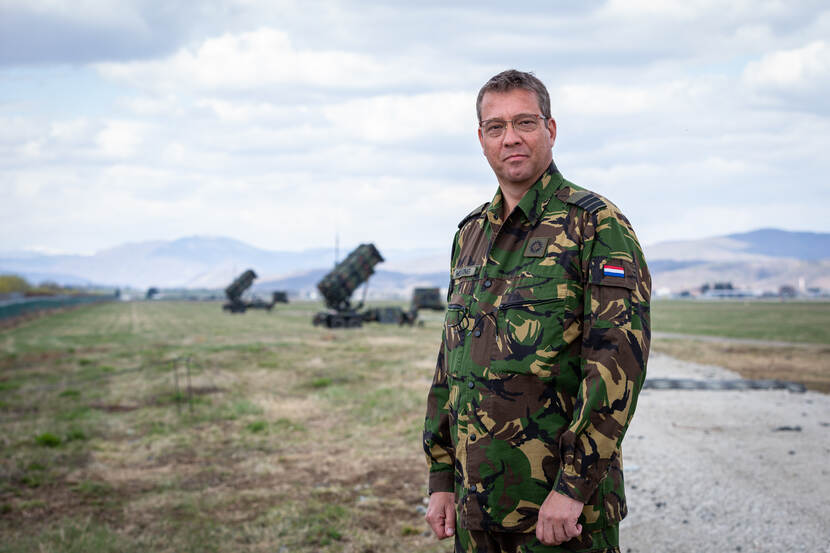 Speaking from Sliač Airport, Lieutenant Colonel Patrick Wekking was positive. "A lot of hard work was done this week to get everything here ready for operations. The first launch systems have now been set up and are ready to fire. We can now detect and respond 24/7 to any threat from the air."
Air defence unit
In the coming months, Dutch military personnel from Vredepeel and their German counterparts will provide air defence from central Slovakia. Ground-Based Air Defence Command (DGLC) of the Netherlands has deployed an air defence unit that consists of several launchers, a fire control centre and a radar system. The whole is complemented by a command and logistics element. The Patriot system can destroy helicopters, manned and unmanned aircraft, ballistic missiles and cruise missiles.
Between forested hills
The Patriot deployment is being carried out in cooperation with and under the leadership of Germany at NATO's request. The countries' air defence units are positioned just two kilometres apart in a valley between forested hills. The positions are not far from the town of Zvolen.
According to Wekking, "It's very good to be doing this with our German counterparts. The cooperation shows that NATO can act as one and gives us additional power."
Defence
Although an attack is not expected, Russian missiles could potentially pose a threat to NATO territory. The Patriot system would be used to counter that threat. The deployment is therefore defensive in nature. The commander stressed that "NATO and the Netherlands are not at war with Russia. We are only here to deter Russia and reinforce the defensive capabilities of our partners in Eastern Europe."