A look at the Defence news 27 March - 2 April
The first new mine countermeasures vessel, the result of a bi-national project with Belgium, was launched last week. During the ceremony in the French town of Concarneau, the Naval Group shipbuilding company handed over the ship bell and the name plates of the new ship, BNS Oostende, to the Belgian navy.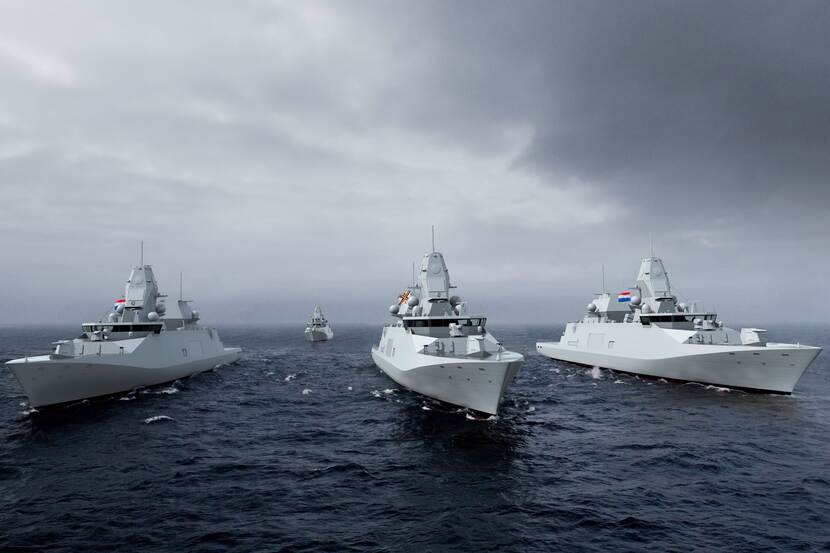 The BNS Oostende is the first of the 12 new mine countermeasures vessels that the Royal Netherlands Navy has purchased and developed together with Belgium. The 12 new vessels will be evenly divided between the 2 countries.
Netherlands military personnel to brave Surinamese jungle once again
Close to 300 Netherlands military personnel are once again on exercises in the Surinamese jungle. This is the second consecutive year in which Dutch units are trying to brave the heat and difficult jungle conditions for a 3-month period. Last year was the first time in 12 years that Dutch units had exercised in Suriname.
Defence releases more information on Dutch air strikes and starts investigation
The Netherlands Ministry of Defence is to launch a new investigation into new suspicions that civilian casualties may have occurred following the use of weapons by the Netherlands during the anti-ISIS coalition. Minister of Defence Kajsa Ollongren informed the House of Representatives to that effect last week. The announcement of the investigation coincides with the release of new information on the over 2,100 occurrences of the use of weapons by Dutch F-16s during actions conducted by the anti-ISIS coalition. These actions took place over Iraq and eastern Syria between 2014 and 2016 and in 2018.
13 Light Armoured Brigade completes integration between Dutch combat brigades and German divisions
Read the news item (30-3-2023).
8 Dutch F-35s complete task in Poland
Since the start of February, Dutch F-35 fighter aircraft in Poland took off 4 times to intercept Russian aircraft. During these 4 flights, the identification and escort of a formation of aircraft took place 3 times. Last week marked the end of the deployment regarding the guarding of NATO airspace over Eastern Europe. The training programme that the Dutch F-35s conducted with allies while in Poland also came to an end.