Netherlands to purchase Leopard 2 tanks for Ukraine
Together with Denmark, the Netherlands is to purchase 14 Leopard 2 A4 tanks for Ukraine. These main battle tanks will be delivered to Ukraine as soon as possible, after first undergoing an overhaul. Delivery of the tanks is expected to take place in 2024. The Netherlands is part of the international tank coalition established to provide Ukraine with modern battle tanks. The Netherlands previously purchased Leopard 1 tanks for Ukraine, together with Denmark and Germany.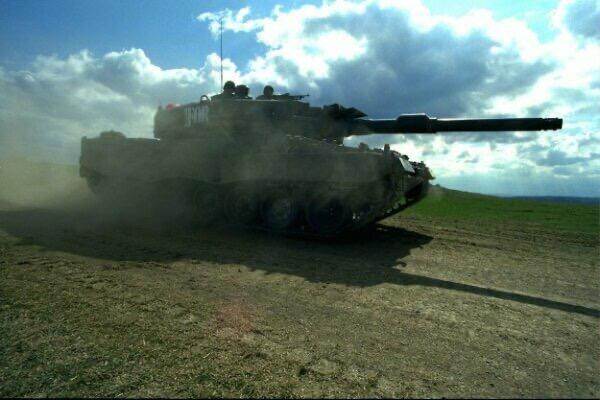 Russia continues to attack Ukrainian territory. In a statement, Netherlands Minister of Defence Kajsa Ollongren said that the people of Ukraine are continuing their fight against the Russian aggressor and that their determination is a strong motivation for the Netherlands to continue its unwavering provision of military support. She went on to say that Ukrainian and European security are inextricably linked.
Major fire power
Having the Leopard 2 A4 main battle tank at its disposal will give Ukraine superiority on the battlefield, due to the tank's major fire power, high level of protection and speed. Over the last few weeks, the Ukrainian armed forces have already demonstrated that they are able to master the skills needed to operate the tank in a short amount of time.
The Netherlands and Denmark will share the costs for the purchase of the Leopard 2 A4 tanks. These costs amount to approximately € 165 million.
In addition, the Netherlands will contribute to 2 initiatives aimed at the joint purchase of 155mm artillery ammunition. The first is a € 130 million contribution to the European Defence Agency (EDA), while another € 130 million will go to the German initiative for the joint purchase of equipment.
By combining orders, it is possible to achieve economies of scale and make the purchasing process more effective and efficient. This all contributes to the sustainment capability of Ukraine. 
Meeting Defence ministers
The Ukraine Defense Contact Group (UDCG) will convene again on Friday in the German city of Ramstein. At the meeting, Defence ministers from over 50 countries will discuss the coordination of military support to Ukraine.
Danish – Dutch joint statement on donation of Leopard 2 main battle tanks to Ukraine
The ongoing Russian aggression against Ukraine must be met with resolve and further commitment of military support by allies and partners to bolster Ukraine in their heroic resistance against the illegal and unprovoked Russian invasion. We fully support Ukraine's efforts to defend itself and reclaim its territorial integrity.
The Netherlands and Denmark today announce our intention to jointly acquire, refurbish and donate 14 Leopard 2A4 tanks for Ukraine following our successful collaboration with Germany on the supply of at least 100 Leopard 1A5 tanks. The Leopard 2 tanks will be supplied to Ukraine from early 2024, as part of our long-term commitment to Ukraine. The estimated cost of € 165 million will be equally divided between our nations. In this way, we will jointly take part in the 'Leopard 2 coalition', supported by many partners and allies.
Our 2 nations will continue to explore other possible areas for joint procurement of additional capabilities with the aim of supporting Ukraine. We are determined to support Ukraine for as long as it takes. Ukraine must be able to defend itself against Russia's invasion.