Netherlands to lend F-16s to training centre in Romania
The Netherlands is to loan F-16 fighter jets to Romania for training purposes. This step will be taken because both NATO countries wish to strengthen F-16 flight training in Romania. They plan to cooperate to that end. Netherlands Minister of Defence Kajsa Ollongren put her signature to this decision today in Madrid. The other signatories were Angel Tîlvăr, Ollongren's Romanian counterpart, and Filippo Marchetti, senior regional executive at Lockheed Martin. The EU's defence ministers are in the Spanish capital for the Foreign Affairs Council meeting.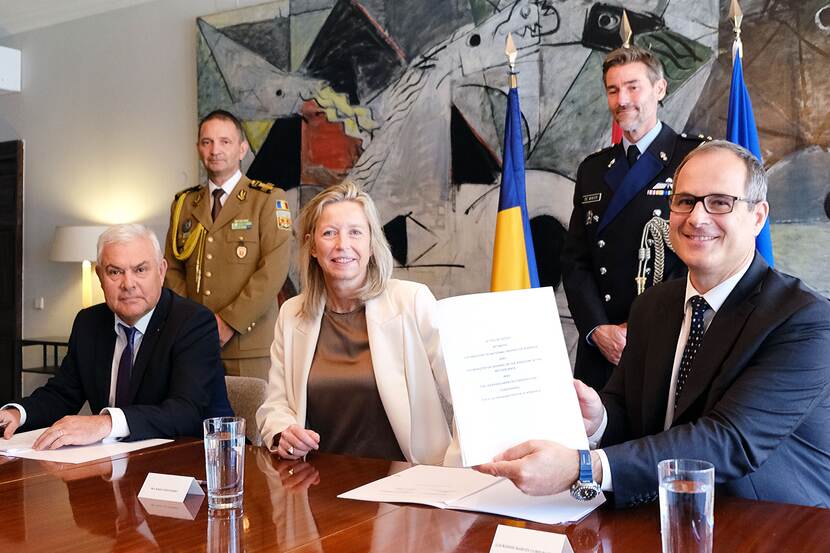 The United States, which had to give permission for the plan to go ahead, supports the intention to deliver F-16s. It gave permission in the form of a third-party transfer for the training centre in Romania.
The Netherlands does not have enough capacity to support the training centre with flight instructors, maintenance personnel and other assets. Although Dutch aircraft were used, Dutch F-16 flight training previously took place in the United States. Because of the phasing out of F-16s and the transition to F-35s, this training was discontinued in the summer of last year.
In addition, the Netherlands must prioritise its current F-16 operations until these are taken over in full by the F-35 in 2024. The F-16 training activities in Romania will therefore be completely outsourced.
Aviation requirements
As an aircraft manufacturer, Lockheed Martin has experience in the maintenance of F‑16s and the provision of training in other countries. The company will operate the aircraft and jointly maintain them with Romania. This will be done in accordance with Dutch military aviation requirements and European aviation regulations. Lockheed Martin will also provide the training. The Netherlands will remain owner of the aircraft.