A look at the Defence news 8 - 15 October
Defence repatriates hundreds of Dutch nationals from Israel
Over the past week, the Defence organisation organised 6 flights to repatriate Dutch nationals from Israel to the Netherlands and Germany. A military Airbus A330 Multirole Tanker Transport (MRTT) was used for the repatriation flights.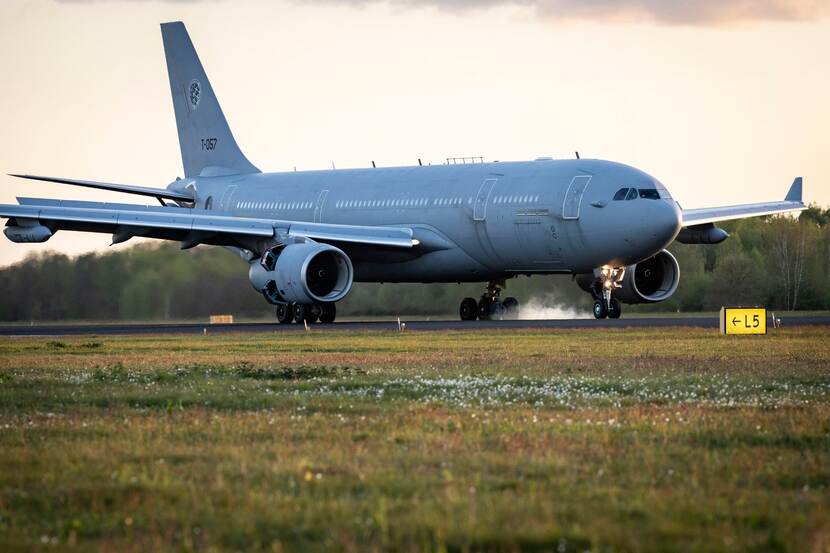 Passengers took the opportunity to return home due to the war between Israel and Hamas. They had previously registered with the Netherlands Ministry of Foreign Affairs information service
Defence team has left for Lebanon
Following the increasing tensions in the north of Israel and the south of Lebanon, a C-130 Hercules transport aircraft with a team of Dutch military personnel has been stationed in Lebanon as a precautionary measure. The Dutch military personnel will provide support to the Netherlands Embassy in Beirut in the event of a significant deterioration in the security situation in Lebanon.
Defence to deploy MQ-9 Reaper for protection of NATO's eastern flank
From next year onwards, the Netherlands will contribute to the defence of NATO's eastern flank by stationing three unarmed MQ-9 Reaper aircraft in Romania. The unmanned aircraft will be deployed to gather intelligence along the eastern border of Alliance territory. It will be the first time that the Netherlands deploys the unmanned reconnaissance aircraft outside its territory.
Netherlands supplies drones, demining equipment and additional missiles to Ukraine
The Netherlands has once again supplied military goods to Ukraine. The support package includes drones, demining equipment and ammunition. The military goods are urgently needed in support of the operations of the Ukrainian armed forces to take back Ukrainian territory currently occupied by Russia. Our country will also donate additional Patriot missiles. The Dutch government recognises the need for Ukraine to defend its critical infrastructure. 
Netherlands joins European air defence initiative
The Netherlands Ministry of Defence is to join a partnership for the procurement of ground-based air defence systems. The partnership was initiated by Germany. Last week, the outgoing Netherlands Minister of Defence Kajsa Ollongren signed a NATO agreement to that end in Brussels.