A look at the Defence news 6 – 12 November
Dutch government sends HNLMS Holland to eastern Mediterranean
The Dutch government is sending HNLMS Holland to the eastern Mediterranean, where the patrol vessel will be able to provide support in the event of the region being evacuated.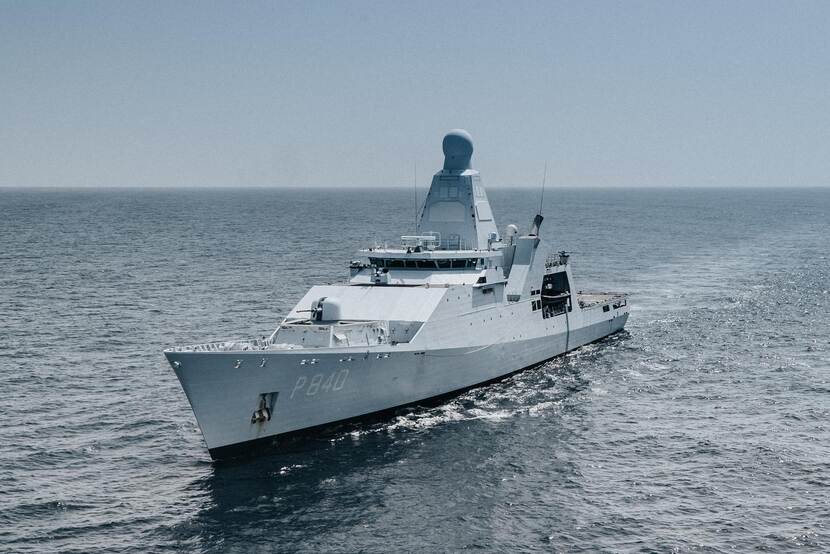 Together with allies, the vessel can also contribute to the establishment of a maritime corridor in order to send humanitarian aid to Gaza. HNLMS Holland is expected to leave for the Mediterranean in mid-November.
Dutch F-16s in Romania
Since last week, 5 Dutch F-16 fighter aircraft have been stationed in Romania.
Slovakian recognition for Dutch Patriot unit
Over 200 military personnel from the RNLA's Patriot unit have been decorated for their efforts while operating as part of the multinational battlegroup in Slovakia. They had been deployed there from 14 April 2022, at the request of NATO. The deputy ambassador of Slovakia thanked the members of the unit by awarding each of them a special medal.
Ollongren

calls for more military responsibility in Europe

"Europe needs to step up its game" is the view of the Netherlands Minister of Defence Kajsa Ollongren. Ollongren and her Swedish counterpart Pål Jonson were discussing the role of Europe in the current geopolitical developments during the opening panel discussion at the State of the Union Conference at Clingendael Institute – the Netherlands Institute of International Relations – in The Hague.
North European defence conference underlines importance of sustainable relations
"Today, we have come together to discuss our common goal of European security. No nation can confront the challenges of today alone." The American Supreme Allied Commander Europe, General Christopher Cavoli, spoke these words at the Kromhout Barracks in Utrecht during the Northern Europe Chiefs of Defence Conference last week. The general added that by attending the conference, the participating countries had reaffirmed their mutual involvement, their support, and their trust in one another. The conference was hosted by General Cavoli and the Netherlands Chief of Defence, General Onno Eichelsheim. (See the video of the conference.)
Army commander
Wijnen

switches to Ministry of Infrastructure and Water Management

The Commander of the Royal Netherlands Army, Lieutenant General Martin Wijnen, is to leave Defence. The 57-year old general will start work as the Director-General of Public Works and Water Management at the Ministry of Infrastructure and Water Management on 1 January 2024. The new commander of the RNLA will be announced later this year.