Pipeline network
The Defence Pipeline Organisation (DPO) obtains aircraft fuel from refineries and storage terminals in the Europoort Botlek area in Rotterdam. It then transports this kerosene to its customers via its own underground pipeline network.
DPO customers are military air bases in the Netherlands and Europe and civilian airports such as Schiphol Amsterdam. In addition to transportation, the DPO can also store the aviation fuel (temporarily) in its own storage tanks. In exceptional circumstances, such as a crisis, military airports have priority over civilian airports.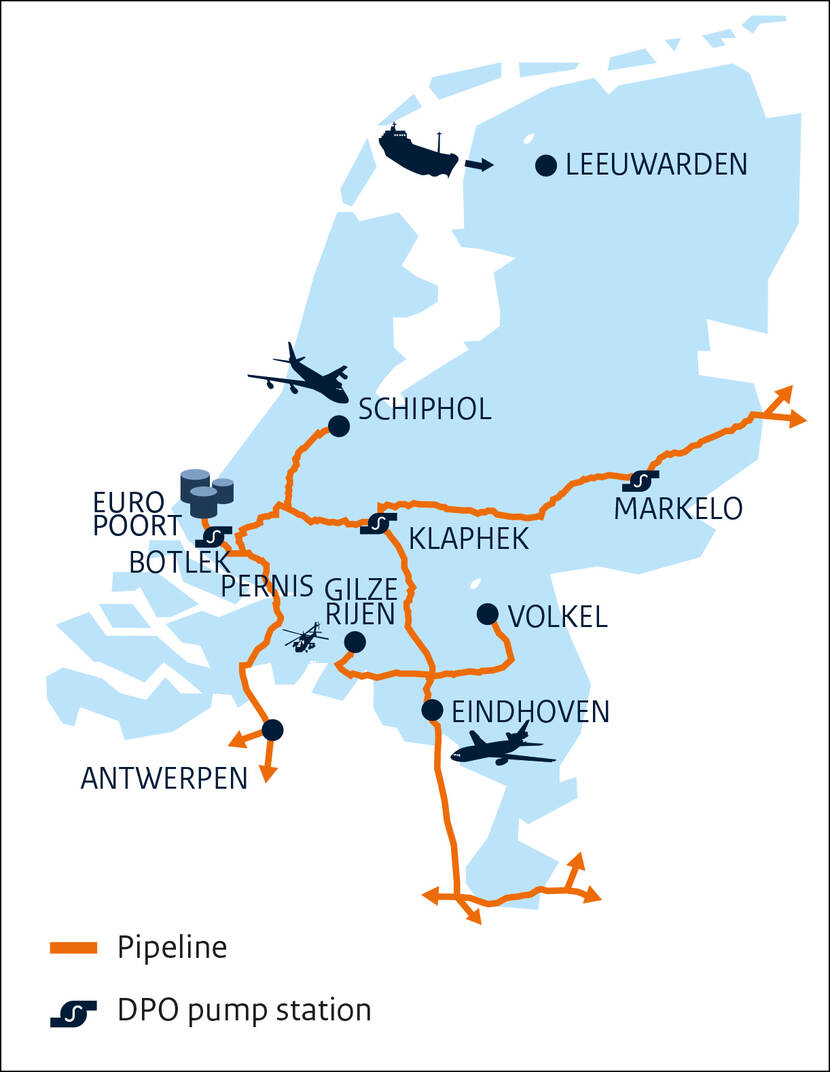 Depots connect DPO pipeline network in the Netherlands
The underground DPO pipeline network is connected through a number of depots (DPO pump stations). A depot consists of several storage tanks and manifolds. The central Pernis depot is located in Poortugaal. This is also the location of the DPO's central control room. There are also depots in Klaphek (IJsselstein) and Markelo. Kerosene is supplied to the Volkel, Gilze-Rijen and Eindhoven air bases via the pipeline system. This works differently for Leeuwarden Air Base, which is supplied via an underground pipeline from the depot in Deinum, in the province of Friesland. Inland vessels supply this depot.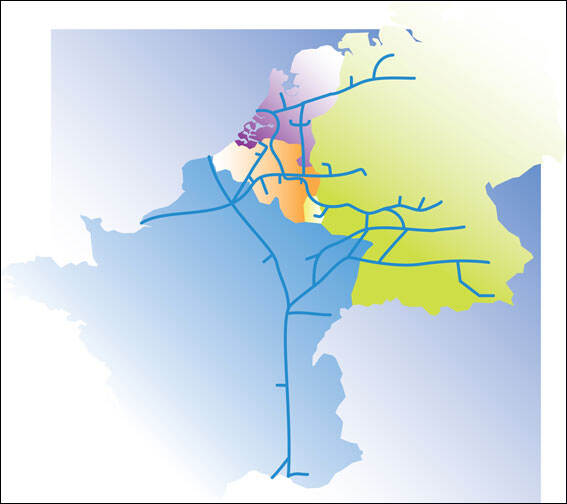 Connection to foreign systems via Central Europe Pipeline System
The DPO pipeline network in the Netherlands is connected to similar systems in Belgium, Luxembourg, Germany and France. Together, these systems are called the CEPS: the Central Europe Pipeline System. The countries manage the CEPS together with the United States as their largest military customer. The US uses the fuel for the American bases in Europe.
Continuous surveillance from the central control room
DPO guards the pipeline network 24/7. It does so from a manned central control room at the Pernis depot in Poortugaal. Personnel can operate the network, stop it in the event of an emergency, assess notifications and incidents, and call out technical specialists and emergency services. In addition, pipeline supervisors do a daily check of the pipelines in order to detect any activities that have gone unreported.
Facts and figures about pipelines in the Netherlands
Length: 550 kilometres (comparable to Amsterdam – Paris).
Depth of the newly installed pipelines: 1.20 metres deep. Pipelines that are 50 to 60 years old are located closer to the surface.
Material: welded sections of drawn seamless heavy wall steel pipes.
Protection: protective polyethylene coating and cathodic protection (to combat steel erosion).
Transport: kerosene.
The quantity of kerosene (transported annually): over 4.5 billion litres. Amsterdam Airport Schiphol is the largest civilian customer with 2 billion litres.
Average flow: between 60,000 and 500,000 litres per hour.
Main pipeline capacity: 550,000 litres per hour (equals 14 tanker vehicles).
Maximum pressure: 80 Bar.
1st construction: around 1957.